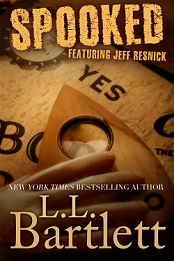 The trick-or-treaters have gone home and now it's time for the adults to celebrate All Hallows Eve. When Maggie suggests they consult an Ouija board, Jeff Resnick thinks it'll be anything but fun. And when they conjure up a ghost from Jeff's past, the game turns dangerous for the most vulnerable person in his life.
(This short story directly follows Dark Waters.)
Available from:
Kindle US | Nook | Apple Books |  Kobo | Google Play | Smashwords | Google Play
---
WATCH THE BOOK TRAILER: 
---
WHAT AMAZON READERS ARE SAYING!
"Ouija boards are scary but if you believe, well anything could happen."
–Sandra P.
"A cunning twist at the end."
–E4books
"L.L. Bartlett gives us another piece to the puzzle that is Jeff Resnick's life. Reading about Jeff and his adventures is like meeting a dear friend for coffee after a brief absence. Great to see him but anxiously awaiting the next visit."
–Margie B.