Jeff Resnick considers Sophie Levin to be his psychic mentor. And it just so happens she likes to bake all Jeff's favorites. These recipes are great to make for the holidays or just when you want to make someone feel special.
SOPHIE'S SHORT-CUT PLACEK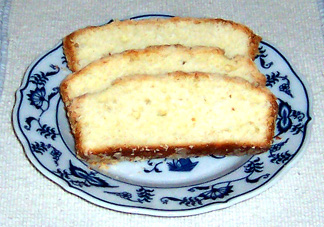 The Cake:
½ cup butter, softened
2 cups sugar
3 eggs
4 cups flour
3 teaspoons baking powder
1 teaspoon salt
2 cups buttermilk
The Crumb Topping:
1 ¼ cups flour
½ cup sugar
½ cup cold butter (or margarine)
CAKE PREPARATION: Generously butter 2 loaf pans measuring 8 1/2 x 4 1/2 x 2 1/2. Preheat oven to 350 degrees. Cream butter and sugar, then add eggs, mixing until well combined. Mix together the flour, baking powder and salt. Add the flour mixture alternately with the buttermilk, mixing well but do not overbeat. Divide mixture evenly among the three pans. Sprinkle the crumb topping (recipe below) equally over the top of each Placek and bake 50 – 60 minutes or until lightly browned on top and a toothpick inserted in the center comes out clean. Cool in pans on a wire rack for ten minutes, then remove from pans and cool completely.
CRUMB TOPPING: Mix together the flour and sugar. Cut in the butter with a pastry blender until the mixture becomes crumbs.
Note: Serve warm from the oven. (Freezes well.)
COCONUT MACAROONS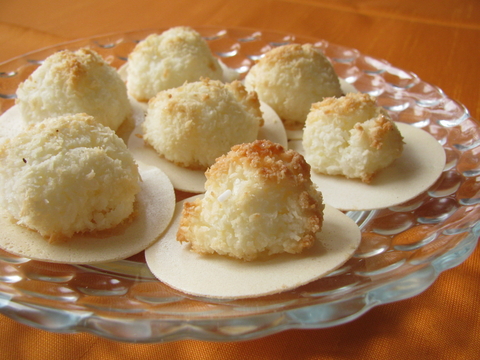 2 2/3 cup flaked coconut, firmly packed
2/3 cup sugar
¼ cup unbleached flour
4 egg whites, unbeaten
1 cup sliced almonds
1 teaspoon vanilla extract
1 teaspoon almond extract
Preheat oven to 325 degrees. Combine coconut, sugar and flour. Stir in egg whites, almonds, vanilla and almond extracts. Drop from teaspoon and place about two inches apart on lightly greased cookie sheets. Bake 20-25 minutes until golden. Remove from pans while hot and let cool on a wire rack. Makes 25-30 cookies.