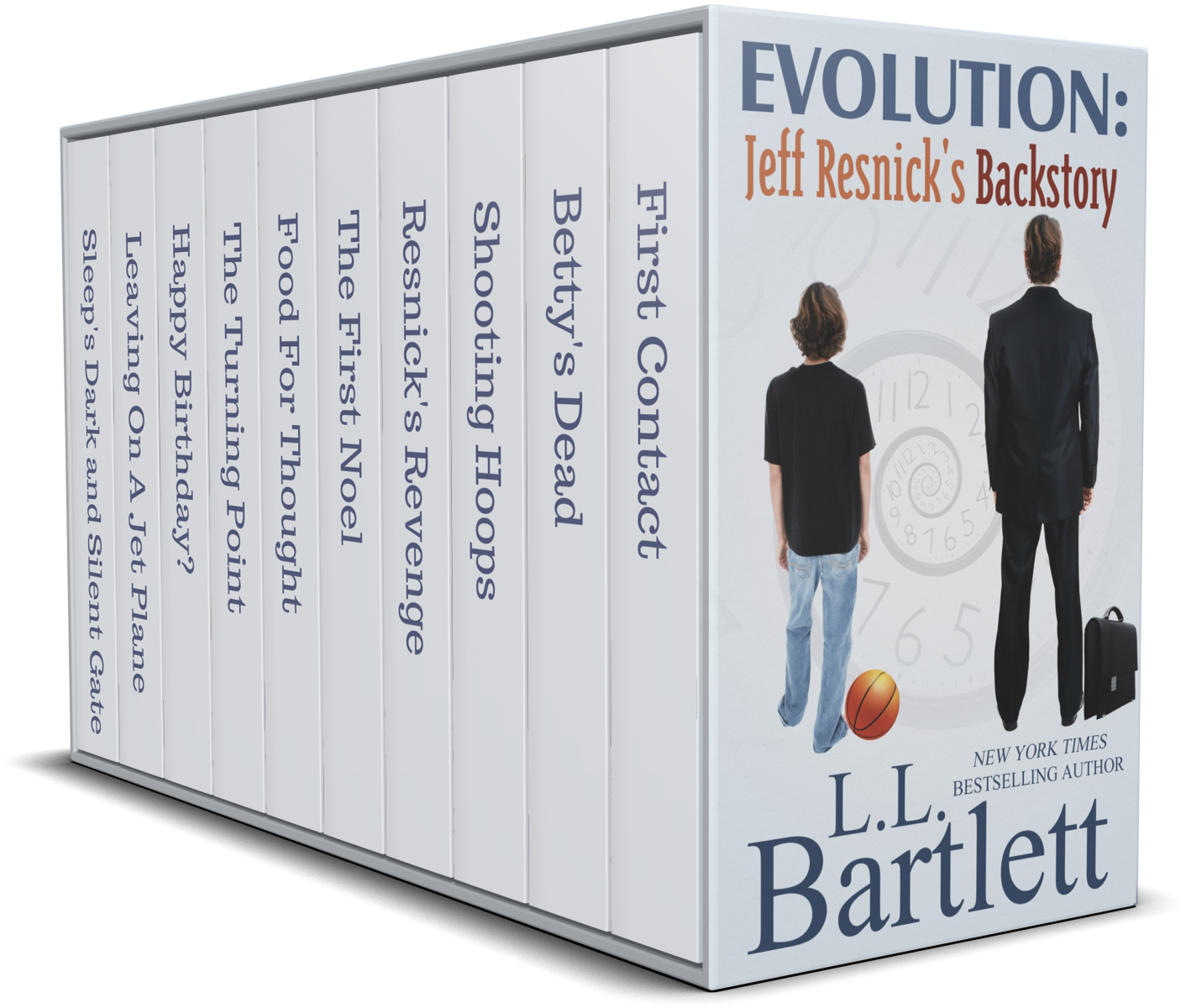 Evolution: Jeff Resnick's Backstory
Publisher:  Polaris Press
Available from:
Kindle US | Apple Books | Kobo | Nook | Smashwords | Google Play
Now available as a Trade Paperback!
Amazon  |  Barnes & Noble  |  Books A Million
Now available in audio!
Read by Steven Barnett
Audible US | Audible UK
Amazon US | Amazon UK
iTunes

A prequel to the nationally bestselling Jeff Resnick Mysteries, this collection of short stories chronicles Jeff's (and his brother, Richard Albert's) back story.  What forces molded these men into the people they are today? Find out in the eleven thought-provoking tales that span from their first meeting, until two years before the first book in the series, Murder On The Mind.  (These stories are not mysteries.)
Contains:
First Contact: Things don't go well the first time Jeff and Richard meet.
Betty's Dead: Upon his mother's death, Jeff is forced to live with the brother he met only once.
Shooting Hoops: Richard has a hard time connecting with his younger brother. Could basketball be the way?
Resnick's Revenge: Mrs. Alpert's spiteful comments and acts force Jeff to handle the situation the only way he knows how.
The First Noel: It was supposed to be their first holiday together, but Richard's change of plans make it impossible.
Food For Thought:  Mrs. Alpert has crossed the line when she withholds food as a punishment.
The Turning Point:  It takes a crisis before Richard finally takes his responsibility as guardian seriously.
Happy Birthday?:  How many ways can a birthday go bad?
Leaving On A Jet Plane:  Jeff finally tells Richard about enlisting, but it's Richard who takes an unexpected flight.
Sleep's Dark and Silent Gate:  Jeff struggles to cope after his wife's murder.
Reunion:  The brothers haven't met in almost four years; but it seems whatever connection they forged has disintegrated.
WATCH THE VIDEO!

FROM:  First Contact
"Jeffrey, come in," Mom said, her smile wider than I'd ever seen. She was happy. I think I'd seen her happy one or two times in my entire life. And she never called me Jeffrey. Well, only when I'd done something wrong. "You'll never believe who this is," she said, her voice filled with pride.
I glared at the man with the full mustache. "You're Richard."
"I am," he said, and smiled, but that feeling didn't extend to his eyes. They gave him away.
The two of them sat opposite one another, and between them on the table was a bright red poinsettia that hadn't been there when I'd left the apartment to go to school that morning. He must have brought it. He brought a stupid plant, when what we really needed was something decent to eat.
Richard stood. He was tall—really tall. He held out his hand and, because I knew my mother would want me to, I shook it. But I didn't like him. And yet, I wasn't quite sure who I was really angry at—him, or my mom. All my life I had heard about this stranger. This super brother who had never come to see us, who was bigger and better and smarter and more wonderful than I could ever be. His father had been a hot-shot lawyer. My father—someone I could barely remember—had been a dry cleaner. For some reason, mom had always made me feel that that had been my fault, as if she hadn't been some part of that equation.
Richard resumed his seat. I turned and plopped down on the couch, but I didn't take off my coat. Suddenly I felt cold right down to my bones.
"Richard's a doctor," Mom said with pride. "Maybe he can help me get well."
He looked too young to have a clue how to cure cancer. Despite the dark circles under her eyes, Mom looked hopeful.
"My current rotation is surgery," Richard said. "For the most part, I've been observing, although I have assisted on a few procedures."
"Will that be your specialty?" Mom asked.
"I haven't decided," the guy said.
Indecisive bastard.
"Where have you been all these years?" I accused.
He met my gaze. His eyes were an intense blue—like our mother's. Mine were muddy brown.
He laughed nervously. "Right here in Buffalo. Only, I didn't know about you two until recently."
He was lying. I could see it in his eyes. Why had he chosen to contact us now? What did he want?
"This is absolutely the best Christmas present I could ever have," Mom said, "seeing my darling boy once again."
Her darling boy.
The boy—now man—she hadn't even seen for over twenty years. And what was I? Chopped liver?
Yeah, chopped liver. My father—whoever he was—was Jewish, and Mom was a staunch Catholic. She'd told me time and again that Richard's father, John, was Catholic. They'd been married in the church. Her marriage to my father had happened at City Hall. His people hadn't wanted her any more than they'd wanted me. And didn't that make me some kind of bastard to the church she made me go to?
I didn't like that feeling of being second-best, and I'd had it shoved down my throat for as long as I could remember.
I glared at the guy, taking in his fancy-schmancy clothes and found my hands sliding down to cover the patched knees of my jeans. The kids at school made fun of me. My clothes came from the thrift store, not from the suburban malls.
His eyes met mine and I looked away.
I had heard about him—King Richard—since the day I'd been born. How wonderful he was. Smart, good looking—the best baby, the best toddler—the best everything. But most of that had been projection on my mother's part. Yeah, I knew about projection—I wasn't as dumb a shit as my mother seemed to think I was. But now that she knew Richard was a doctor, I was sure to have that piece of information shoved up my ass on a daily basis.
It made me hate the bastard even more.

"This was great! I love seeing both sides of the coin as the two brothers struggle to be a family despite their vastly different upbringing. Thanks to the author, we have a chance to explore the hows and whys which brings us to the present as we get a better understanding of the family dynamics of their relationship. If you're a fan of the Jeff Resnick series, you don't want to miss this book."
–Dru's Book Musings 

Kindle US |  Apple Books | Kobo | Nook | Smashwords | Google Play
Now available as a Trade Paperback!
Amazon  |  Barnes & Noble  |  Books A Million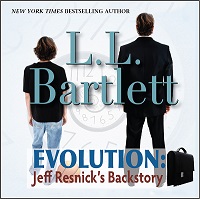 Now available in audio!
Read by Steven Barnett
Audible US | Audible UK
Amazon US | Amazon UK
iTunes